What's guaranteed to distract you?
I confess that writing this blog post right now is distracting me from an otherwise engrossing translation project. But I can't sit writing at the kitchen table all my life. Sometimes I have to get out and get down to the seaside to refuel. And there I'm distracted by small things on the sand.
Strolling along a beach, heading for a rocky outcrop, I'm easily sidetracked by what lies in the drift-line. Mostly it's broken shells, seaweed, stones, twigs and branches washed up by the high tide. But occasionally something catches my eye from a distance and I leave the water's edge and head over to take a closer look.
It could be a lost thing. Like a coloured water-ski rope. Somewhere in the Pacific, a water-skier is asking "where did that rope go?" Well, if you're looking for it, it's on the beach at Guerilla Bay.
It could be two lost things. Like shoes. Somewhere along the south-east coast of New South Wales, a young girl is asking "where are my new runners?" Well, they're on the mud flats of the Clyde River in Batemans Bay. Did they wash off the side of a boat?
It could be a heart. Did someone lose their heart on the beach at Guerilla Bay? Because, well, I found one. Is it yours?
The WordPress people have asked this week for photos of our distractions.
But enough of this blogging distraction. Back to the project.
*****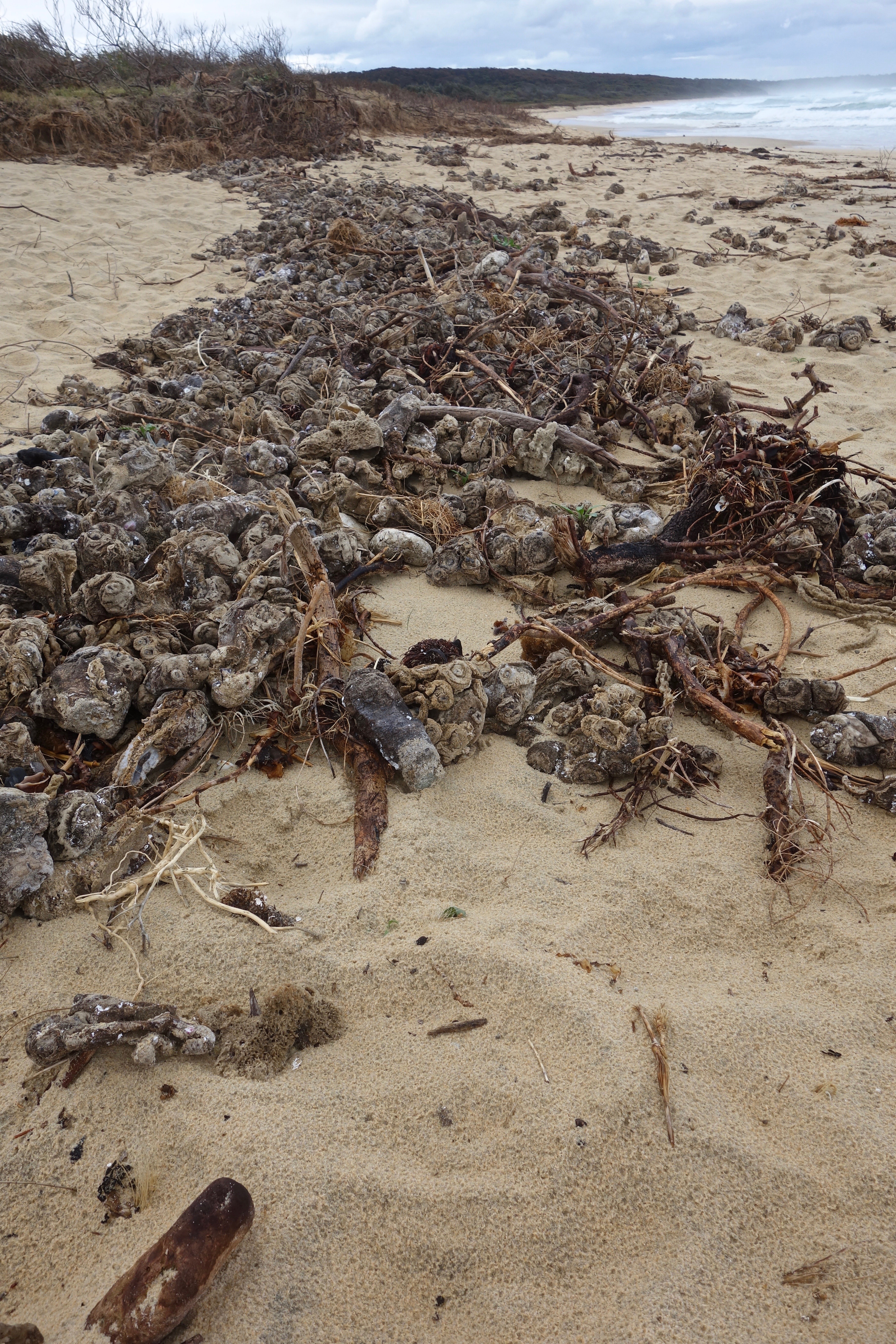 The tide flows and ebbs and leaves for us a snaking line of sea debris, variously called the strandline, the high water mark, the high tide mark, the wrack line.
On Saturday, in the drizzle of the afternoon, I was wandering along the beach at Dalmeny on the south coast of New South Wales, wondering what this bulky material was that had been left behind and not washed back into the sea.
The debris was here to stay, and even to be appreciated, for it became a source of enjoyment for me as I studied the shapes and found small surprises, natural and unnatural, hiding among these dead sea things. This strandline seems to be composed of thousands of sea squirts, cunjevoi, all the same in ugly tone and form. But a few moments of close observation revealed beauty where at first there seemed to be none. There was this foot form with purple shell toes:
And a ropey sea plant hanging behind rich russet red weed:
There were a few hints of human marine life, like this green cord caught in the roots along the bank washed away by the fierce stormy sea:
Something spongey, something weedy and something blue made a still life arrangement that broke up the monotone line of sea squirts:
There was even man-made beauty in this forest of dead branches stuck in the sand. There's something appealing about the two art forms as neighbours…
Before I left the beach that afternoon, a shipwrecked manifestation of The Scream called to me as I passed.
Australia has 10,685 beaches. Give or take… When I'm tempted to think I've seen everything a beach can offer, I remind myself of the thousands I've yet to explore. Of course, the paradox is that I love the sea as long as I'm not in it. The line of debris caught my eye simply because my back was turned to the water. But if I were a swimmer or surfer I might have ignored the beauty in the detail of this strandline.
In Australia the term for this debris seems to be strandline. But thanks to an excellent blog about shorelines in Oregon, USA, theoutershores.wordpress.com, I learnt that it can also be called a wrack line. Wrack is a great word for this stuff, having two meanings: wrack is a type of seaweed cast ashore, and wrack is also what is left behind after devastation.
***
Save
Save
Save
Save
Save
Save
Save
Save
Save
Save
Save
Save
Save
Save
Save
Save
Save
Save
Save
Save
Save
Save
Save
Save
Save
Save
Save
Save
Save
Save
Save
Save
Save
Save
Save