Tonight at 7.52 when it was 6 degrees Celsius and blowing an icy gale, I took this photo of D'arcey Richard Nottingham Shaw's name projected onto the Australian War Memorial.  It was hard to hold my camera still in the wind, but the photo is not too bad.  D'arcey was killed in action on The Somme in France in 1917, yet he has no grave;  his remains were never found.  On his Roll of Honour card, digitally available on the A.W.M. website, it is noted that D'arcey Shaw's wounds were the result of being buried twice from bombs bursting near him in Pozières.  How ironic that they should write that, when in the end he was buried nowhere.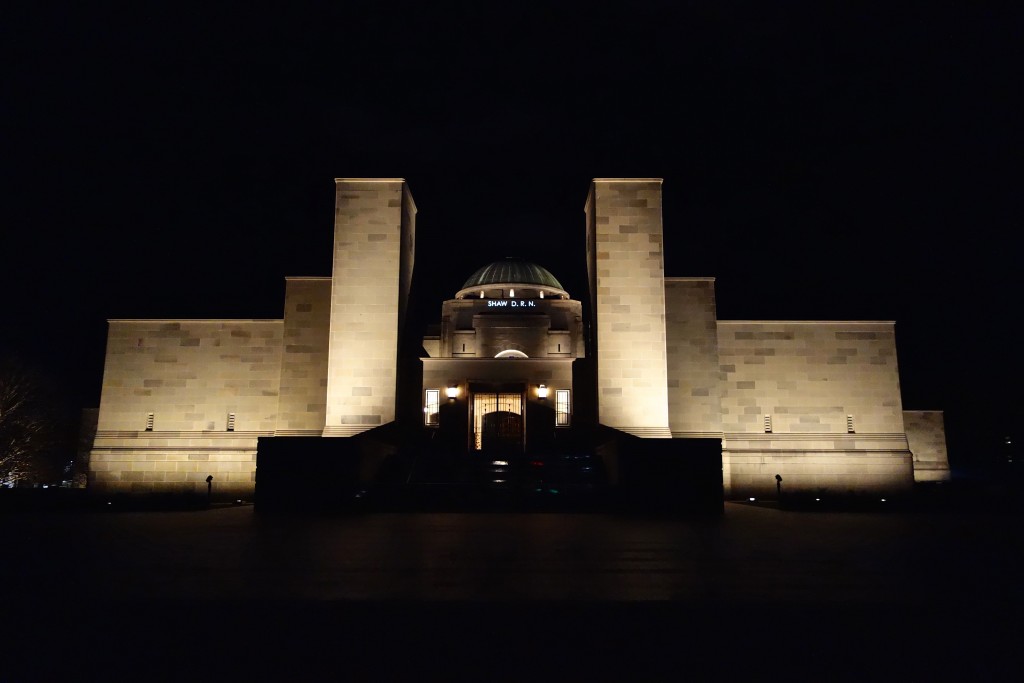 Because he died defending Australia, his name was written in light for 30 seconds tonight, perhaps for my benefit alone.  As far as I know, none of his other family members live in Canberra.  Since I'm just ten minutes away, it's easy to whip down to the Memorial and see the names when they come up between sunset and sunrise.
D'arcey was my grandfather's cousin.  I want to remember him and his two brothers who also died in France, in the war to end all wars, because my grandfather was there too, but he didn't die.
Nineteen-year-old D'arcey was the second son in his family to be killed in France. The first one was George, and there would be a third, Frank Percy Shaw, whose name was projected onto the War Memorial on 21st June, a night that was cool but not freezing like tonight.  I wrote about him here.
As I was leaving around the back of the Memorial I saw four kangaroos standing guard in the dark.  They're delightful at a distance and are happy to be photographed from a car window, but if I'd got out and approached them they would have either hopped away or hopped towards me and treated me as an enemy.
The next date that I will have a relative's name up for viewing is in early spring.  I'm happy knowing it won't be another chilling evening.
*****