Who'll show a child just as it is?
From the fourth Duino Elegy, Rainer Maria Rilke
– translated by J.B. Leishman and Stephen Spender, an epigraph opening Sophie's Choice by William Styron
This post is about a great opening line, but also about a great title.
When I was twenty, I watched a movie with Mum. An average Friday night movie, with cups of tea, relaxing together in the loungeroom I spent so much of my life in. The movie was Sophie's Choice, with Meryl Streep in the role of Sophie, based on the novel by William Styron. When the story turned to the Nazi concentration camp in Auschwitz and the gassing and systematic elimination of Jews, I turned to Mum and said "Did this really happen?". Of course she said yes, but nothing more.
There had been plenty of talk in our household about wars. My father was a soldier in the second world war, his father was in the first. Various uncles and older relatives had also played their part. I had only heard them talk about fighting against the Germans, you know, gunfights and bombings on battlefields. Why had I never heard about concentration camps and the wilful destruction of Jews and various other unwanted people? Mum didn't say much after this (she never talked about anything dark) and I was so horrified at my fellow humans that I asked no more questions.
The words Sophie's Choice will always remind me of that night, that piece of knowledge I acquired. I've since read the book, a hard read, some of which I skipped. The climax is in this exchange between a Nazi doctor and Sophie, his victim, a mother of two:
…the doctor said, 'You may keep one of your children.'

'Bitte?' said Sophie.

'You may keep one of your children,' he repeated, 'the other one will have to go. Which one will you keep?'

'You mean, I have to choose?'

'You're a Polack, not a Yid. That gives you a privilege – a choice.'

Her thought processes dwindled, ceased. Then she felt her legs crumple. 'I can't choose! I can't choose!'
This week I was casually browsing The Canberra Times when I came across the entertainment guide, with this on the cover: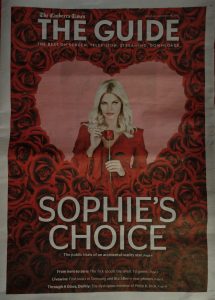 The article inside about a woman named Sophie Monk is written by the journalist Michael Lallo. The opening line is not one of the great ones that will make my collection, but is worth quoting here:
When Sophie Monk did her first bikini shoot, for a men's magazine, she cried in the bathroom.
And what choice did this particular Sophie have to make? Lallo writes:
She began to question previous choices. 'Why not?' she thought, when Playboy made its umpteenth approach.
Michael Lallo has taken Styron's title and made it his own, rather than making up his own. It might be forgivable if the topic of his story had some relevance to the original. I guess he used it because it had already made a big impact, and I suppose it got my attention. If Lallo wanted me to reflect on life, then it worked. I reflected immediately on literary appropriation and Nazis torturing and gassing people.
This is a writing lesson for me. Be careful not to inappropriately use analogies.
***