The thousand arms of the forest were grey, and its million fingers silver.
First line, 'The Sign of the Broken Sword', G.K. Chesterton, 1911
G.K. Chesterton wrote 53 stories about a very short priest with 'a face as round and dull as a Norfolk dumpling'. Many of them have intriguing opening lines, but I particularly like this one for its imagery, the inspired words of Chesterton, the formally trained artist.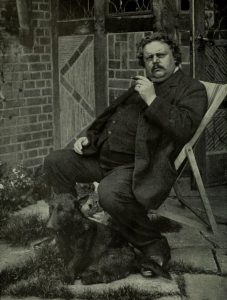 It's the beginning of a story about a hero, a soldier, for whom a monument was placed in the highest position in a church yard. Beside the recumbent sculpted soldier lay a sword, its tip broken off. The story reveals how it broke, and how a myth was born and believed.
Unlike Sherlock Holmes, Father Brown is self-effacing and enigmatic with no need of a magnifying glass or fingerprint powder. His interventions in crime cases, appearing at first bumbling and irrelevant, are intentional, based on his intuition and his sensitivity to evil. Chesterton is well known for paradoxes in his writing – even Father Brown's offsider is a reformed criminal, as tall as the priest is short. Read 'The Sign of the Broken Sword' and see if your intuition leads you to pick the paradox.
*