1801 – I have just returned from a visit to my landlord – the solitary neighbour that I shall be troubled with.
Opening line, Wuthering Heights, Emily Brontë, 1847
A dark novel with not one happy moment. At least not for me. I've read it twice without pleasure. Still, the opening line is worth studying for its invitation to read on, to find out what kind of trouble the neighbour will cause.
Emily was 29 when her only novel was published. She died the next year.
I have a little black Penguin book (no. 63), "The Night is Darkening Round Me", containing 30 of Emily Brontë's poems. Many of them suggest she knew her life would be short and death was not far off. She also writes of others who are already dead and buried, as though thoughts of them, and knowing she would soon go to be with them, were constantly turning in her mind. Take, for example, the first stanza of Remembrance:
Cold in the earth – and the deep snow piled above thee,
Far, far, removed, cold in the dreary grave!
Have I forgot, my only Love, to love thee,
Severed at last by Time's all-severing wave?
Or take the last stanza of The Old Stoic:
Yes, as my swift days near their goal,
'Tis all that I implore;
In life and death, a chainless soul,
With courage to endure.
Charlotte Brontë, in her 'biographical notice of Ellis and Acton Bell' ( pseudonyms of Emily and Agnes Brontë), described her sister Emily as "stronger than a man, simpler than a child". "Under an unsophisticated culture", she wrote, "lay a secret power and fire"; "Her temper was magnanimous, but warm and sudden; her spirit altogether unbending."
*
Today as I was waiting for some singers to sing in Sydney, I read Emily's poems. Many are grim, yet in their truthfulness are more satisfying than the novel. I would put this small Penguin book on a recommended reading list. I wonder what Emily would have thought if she were looking into a crystal ball in the 1840s, seeing a woman on the other side of the world reading her poetry while drinking coffee with a heart painted in its froth…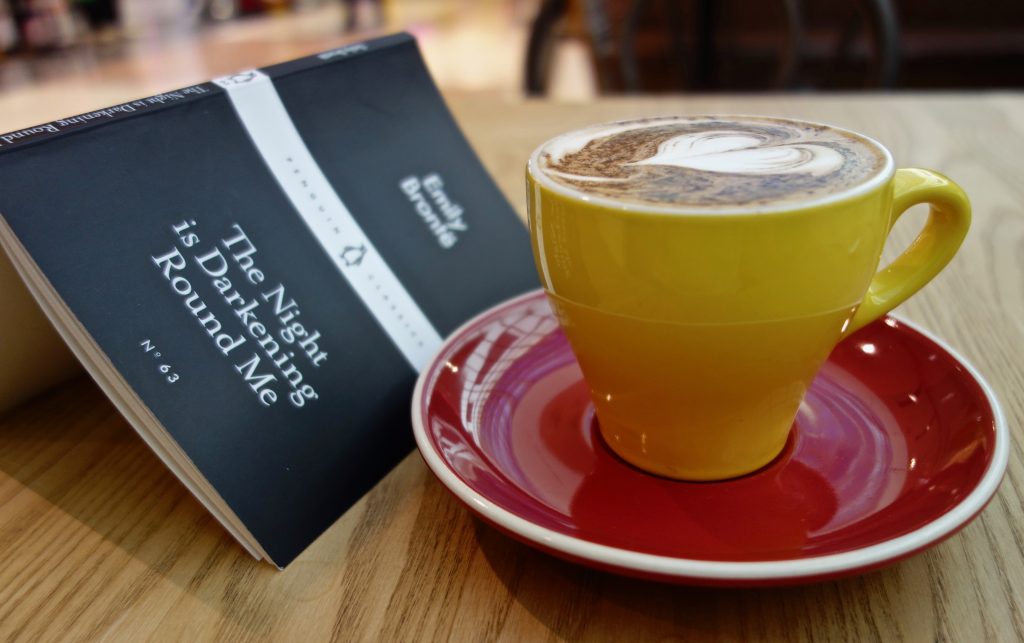 *