Think 'big'.  Now think 'Egypt'.  Perhaps you're having visions of big protests in the streets, and as I've just heard five minutes ago on the evening news:  'Another day of rage and bloodshed'.
Perhaps you're thinking of other big Egyptian things:  pyramids, massive pharaonic statues, or the sphinx.  But here's something else that's big in Egypt: the citadel in Cairo, a 12th-century fortification against the Crusaders, and the mosque on its summit built centuries later by Muhammad Ali between 1824 and 1848.
In 1801, Muhammad Ali was appointed by the Ottoman Sultan in Constantinople to be governor in Egypt.  But he had bigger plans.
In 1805 he began eliminating the Mamluks, his main competition, a warrior group who for centuries had worked for the Ottoman Empire and the Sultan.  In 1811, Muhammad Ali invited the Mamluk leaders to a ceremony in his palace in the citadel, and as they were leaving he had them massacred.  In the following days large numbers of Mamluks were killed in the city.  Years later, in 1824, he razed the Mamluk buildings in the citadel and in 1830 began building his mosque in the style of the Ottomans in Turkey.  The building, with its one main cupola, four smaller and four half-cupolas, resembles the Turkish Blue Mosque.  On his death in 1849 Muhammad Ali was buried under it.
Next to it in this photo is one of the Mamluk mosques that remained in the citadel, the Mosque of Mahmud Pasha built in 1567 in the Mamluk architectural tradition, with a pencil-shaped minaret characteristic of Ottoman mosques.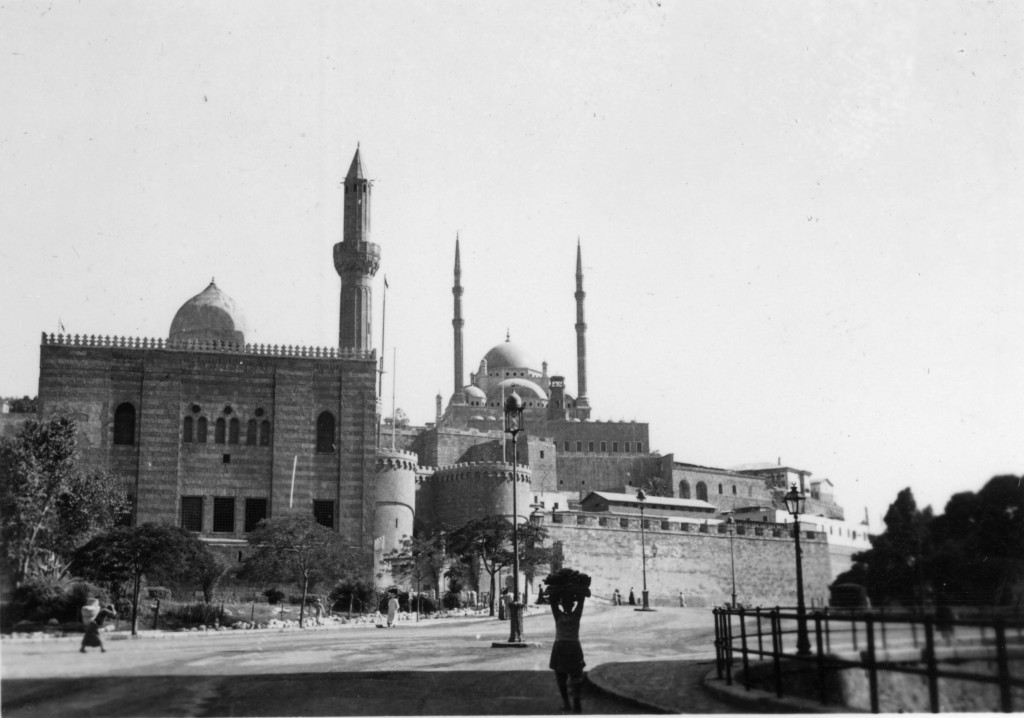 The painting below by David Roberts in 1839 shows the citadel before Muhammad Ali's mosque was built;  it looks quite different from the photo, but the title on the painting tells us it's the same place: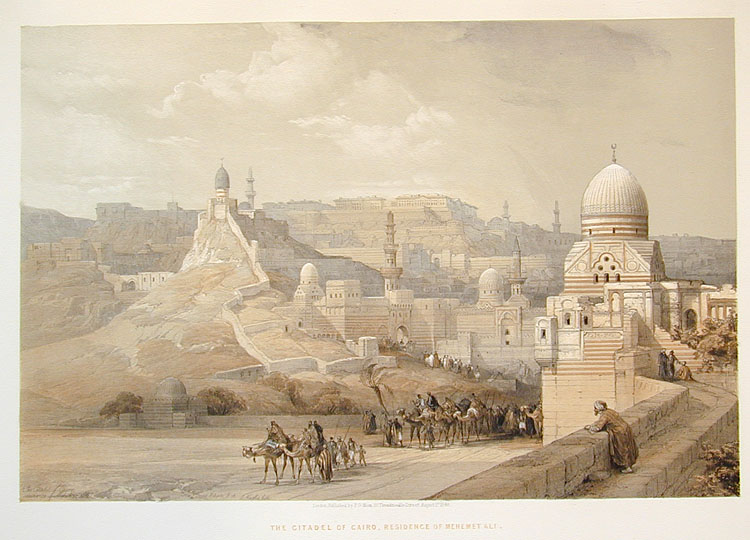 Even the painting evokes something big!  We can see the grandeur of the citadel viewed from above a parapet and also a sense of the size of the structures when compared with the Arab groups dotted in the foreground.
But return to the photo and take a moment to look at the street scene.  Peace.  It will come again.
Please have a look at Ailsa's blog post because it was her BIG idea!
Save