In the 1800s, the town of Helwan was Egypt's winter resort for the wealthy.  During the Second World War, British, Australian and New Zealand soldiers were resident in the area and visited these gardens constructed in 1917 by the architect Zulfiqar Pasha, who gave them a Japanese theme with about forty Buddha statues, elephants, a Japanese-style bridge and pagodas.
After the 1952 revolution the gardens were neglected and Helwan became an industrial area.  However, about a decade ago, with help from the Japanese Embassy, they were restored as a Japanese Garden.  Once more it has become a desirable escape from the crowds of Cairo.  It's not just tourists who enjoy the space;  most Muslim locals also love it as a green oasis amid decrepit concrete buildings, even accepting the novelty of Buddha statues in a Japanese garden, the only one in the Middle East.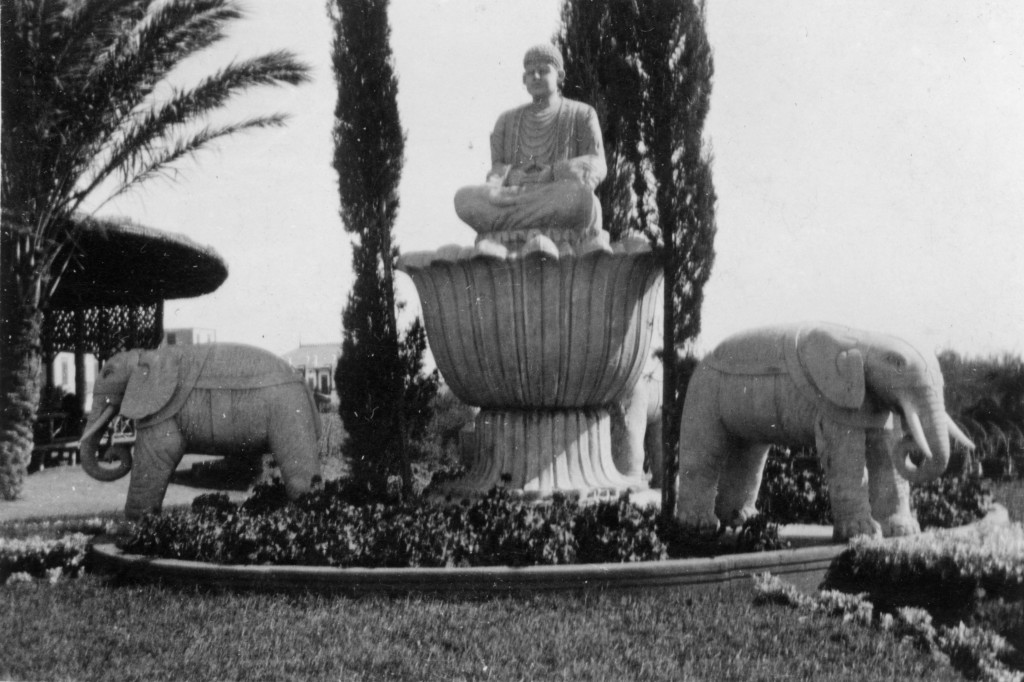 In an earlier blog post, I had previously posted the photo of the seated Buddha on a lotus flower and the three elephants, but I deleted it.  However, I'm posting it again, because today I was reminded of the value of photos.
When I went searching online for current images of these statues, I found that my photo had been copied before I deleted it, and then it was used to illustrate a couple of stories about the demise of the statues. The Buddha has been beheaded and the elephants de-trunked.  What a horrifying discovery!  A couple of web sites have stories or brief notes about the destruction, and the authors of these sites have used my photo to show the statues as they were in the 1940s.
My father's collection of wartime photos is a valuable historical resource, and I'm pleased to be able to share them through this blog.  However, it's disappointing that I received no credit as owner of the photo.  Take a look at this Twitter post, for example, and a news site, here, which has put its own name across the bottom of the photo.  Please, if you wish to use my photos in your stories, ask me before copying them, and give me credit.  Thanks.
*****