On 25th April it will be 100 years since Australian and New Zealand soldiers charged the beaches in Gallipoli, Turkey, in an attempt to beat the Turks and give the Allies a chance to take Constantinople.  They were mown down, slaughtered.  The battles continued for months until December 1915 when they withdrew, defeated.  Out of a population of less than 5 million, Australia lost 8,000 young males at Gallipoli.
The following year, 1916, my grandfather, Ernest Bruce, joined the army after stowing away on a ship of volunteers headed for Egypt.  In July at Pozières, France, on the Western Front, he was trapped under concrete in an explosion, and then gassed.  But he survived.  He was one of the 40,000 Australians killed or wounded in 1916 on the Western Front (see AWM).  That's a huge part of a population of 5 million.
When he returned to Australia, he was too ill to work for more than a few days a week, yet it took the government years to offer him a pension.
His oldest son was my father, Ronald Bruce, who hadn't learnt a thing about the futility of volunteering to fight in a war.  In 1941 he joined the army, was sent to Egypt, and months later was sent home with shell shock.  He couldn't hold down a job, and at 25 was offered a pension.
This Anzac Day, I honour my father and grandfather for volunteering to participate in Australia's defence.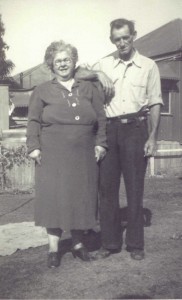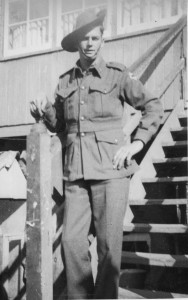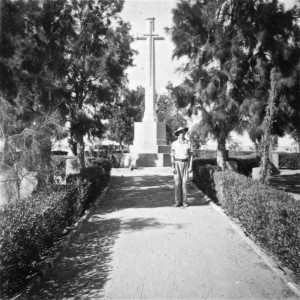 At the Australian War Memorial in Canberra there is a wall called the Roll of Honour.  It's covered in the names of Australians who have died in war.  My grandfather and father are not on the wall because they returned alive;  but my grandfather's three cousins, the Shaw brothers, and my grandmother's two cousins, the Burley brothers, did not.  They are all buried on the Somme in France, and their names are here on the wall.  I put poppies beside their names.
Since I learnt that they were all killed while my grandfather returned, I haven't looked at life the same way.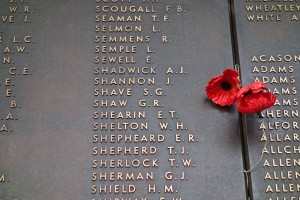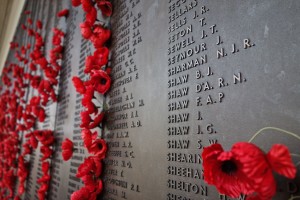 *****