Walter Burley had two wives and seven children.  His wives had short lives, and four of his children died in infancy.  The three who survived to manhood, Alfred, James and Frederick, went to France to fight in World War One, even Alfred who had his own wife and six children.  Fortunately for them he returned.  Pity about Alfred's two brothers who enlisted in the army together, numbers 5046 and 5047, for both their lives ended in France in 1917.  With all his siblings dead, Alfred came home to Australia in 1919 to find his wifeless father, Walter, was also dead and gone.  All of Alfred's original family were in the ground.
*****
I learned this little story of big losses through the Australian War Memorial's prompting.  It's reminding us nightly, from sunset to sunrise, that 62,000 Australians died in the fight that was World War One.  Walter's sons, Frederick and James, are on the Honour Roll currently being projected onto the Memorial's facade.  They are two of my grandparents' cousins who did not return from France, so I've been zipping over to the Memorial to catch the names as they appear.  This month it's Frederick's turn.
I've read the army records, including a few letters and the immediate family history, of Frederick and his brothers.  I'm struck by the number of deaths that left Alfred the only standing family member.
The abundance of our ancestors' details now available means we're discovering their long-forgotten joys and losses.  But look closely;  there are even a few of their untruths.  Frederick's details on the Roll reveal that, when he was young, he wished he was younger;  the Memorial records his age at death as 24, but he was born in 1887, which in 1917 made him 30…  Frederick died and was buried in April 1917 at Vaulx-Vraucourt, Pas de Calais, forever youngish.  He lied to the Australian Army, but he can't lie to me because his birth details are these days online for all the world to see.
These Burley men were my first cousins three times removed.  I snapped this photo of Frederick's name at 8:05pm one evening a couple of weeks ago, when it shone for 30 seconds.  In June 2016 his brother's name, J.E. Burley, will be projected.  I've marked it in my diary.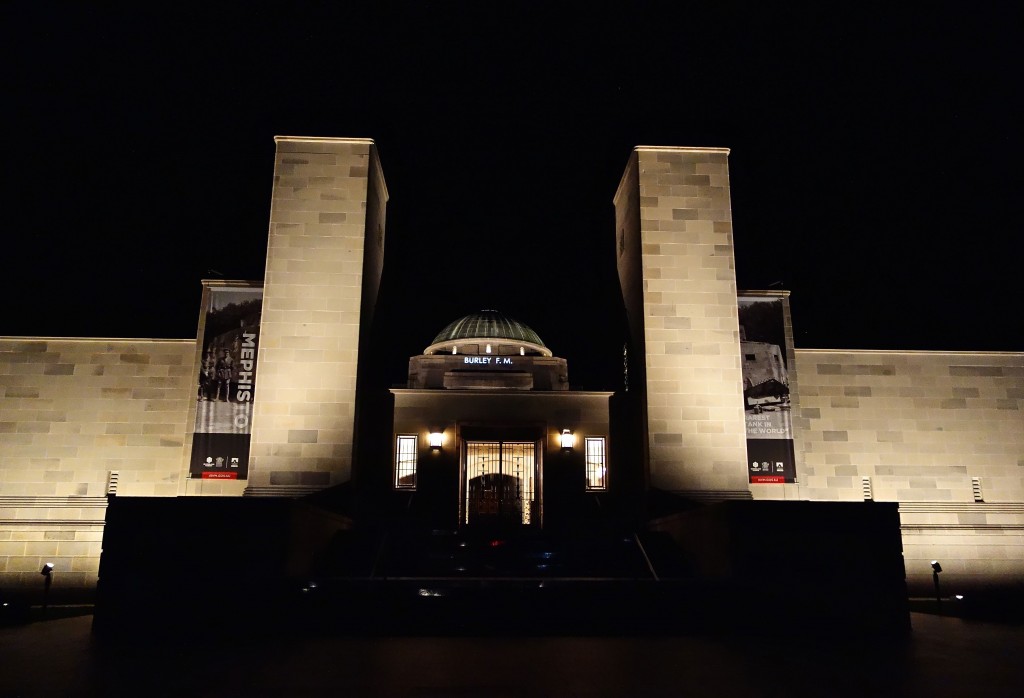 The names of three other men, my grandfather's cousins George, Frank and D'Arcey, were projected onto the Memorial during this year's cold, starry winter evenings.  The significance of all this for me?  My grandfather also went to France, but he was a cousin who returned.  His name, like Alfred Burley's, is not one of the 62,000 being projected, 30 times over 4 years, beneath the dome of the Memorial.
*****