Since last year the Australian War Memorial has been projecting names of Australians who died in WWI onto the front of the building. I've been to the Memorial on cold dark nights to see the names of two brothers, D'Arcey and Frank. Recently, it was their brother George's turn.
George Ronald Shaw, my grandfather's cousin, was killed in France, near Sailly-sur-la-Lys, on 20th April 1916, a hundred years ago this week. He was 24, the first of the three brothers to be killed in action, all of them in France. (My grandfather was wounded on the Somme a few months later but returned home alive.)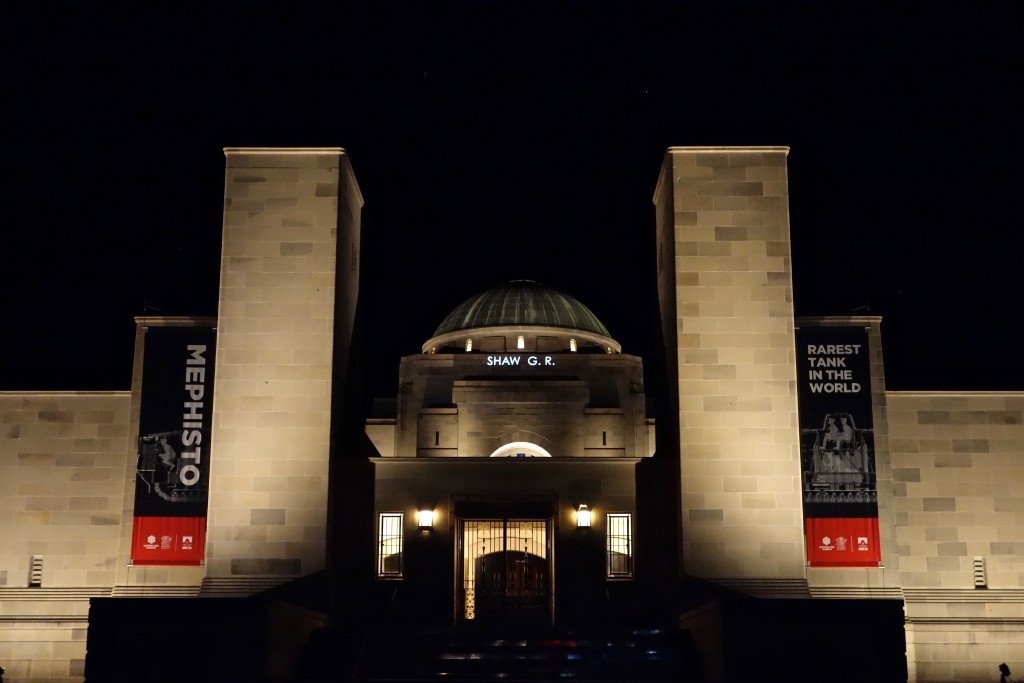 George had disembarked in Marseille on 3rd April and made it all the way to the Somme in northern France, where he was killed 17 days later when his billet, a farmhouse, was shelled. His record says he was KIA, killed in action, but he actually didn't get to fight against anyone.
An aside: the last couple of times I've been to the War Memorial to photograph my relatives' names, I've read the banners advertising the presence of Mephisto, the Rarest Tank in the World (they were still there when I took the photo above, but in preparation for Anzac Day on Monday, they've been removed). Today I decided to see Mephisto for myself. It's a Sturmpanzerwagen A7V invented by the Germans, and Mephisto is the only one of its kind left in the world. It has a painted red Faustian demon on the right side, carrying a British rhomboid-shaped tank under its arm. Hence the name Mephisto, short for the Faustian character, Mephistopheles. It was a great lumbering vehicle, hot, cramped and noisy inside, but it was one of the first of many tanks that would change land warfare for ever.
The War Memorial was quite crowded this morning, and Canberra generally seems to have more people moving around this weekend than usual. Perhaps they're here for the Anzac Day long weekend. I'm considering going to the dawn service on Monday. I've never done it. Yet.
*****