Odyssey Books has just published my translation of Contes pour lire à la chandelle – Stories to Read by Candlelight by Jean Lorrain, and today I received ten copies of a very well produced, postcard-sized book. As yet it's available on Amazon only to pre-order, but will actually be available from next week, 16th September.
The eight stories were written in the 1890s by the French author Jean Lorrain. About six years ago I completed my translation of them (the first one in English according to my research) and began submitting it to publishers. At last I can announce that the little collection is available in English, and as a bonus it's illustrated with surprising silhouette images by the talented artist, Erin-Claire Barrow. The cover design is by Simon Critchell.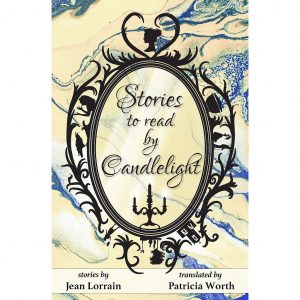 And now, an excerpt, for a little of Jean Lorrain's whimsy:
Illustration by Erin-Claire Barrow

Princess Mandosiane was six hundred years old. For six centuries she had lived embroidered onto velvet, her face and hands painted on silk. She was dressed all in pearls, her gorget rippling with heavy beading, and her gown was woven with threads of argentite and arabesques of the finest gold […] For a long time she had figured in processions and royal celebrations. She would be brought out and hoisted up on a banner staff, and the dazzle of her jewels would bring joy to great ladies and commoners […] Then the era of processions passed, thrones were abolished, kings disappeared, civilisation marched on, and the princess of pearls and painted silk now remained confined in the shadow and silence of the cathedral.
Please let me know if you read the stories and especially if you review them. May they give you as much pleasure as they did me when I pulled the original book from the library shelves of forgotten French literature.