Today my translation of Théodore de Banville's 'La Lydienne' (The Lydian) was published by Black Sun Lit on their web site.
The Lydian is a statue of Queen Omphale, queen of Lydia in Greek mythology. Théodore de Banville's story is about a sculptor who creates a marble statue of her and falls in love with it. With her. His love is so powerful that she comes to life…
There are a few real sculptures of her in the world and even more paintings, particularly accompanied by Hercules who was her slave for a year. This sculpture by Constantin Dausch is my favourite of all those I've seen online: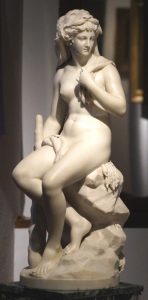 It's been more than a year since I've had any of my translations published, so I'm having a very good day.
The original was written in 1882. For me the second half of the 19th century was one of the greatest eras for literature. If you too enjoy fantasy and "art for art's sake" (Banville's literary philosophy), this story will be a good one for you.
*