Apparently, it's good for writers to write reviews of other writers' work. I've never done it and never wanted to, till now.
I had a great morning walking round some natural ponds and listening to hundreds of frogs croaking among reeds, all thanks to one small book: Walking Canberra by Graeme Barrow, self-published in 2014. So I feel compelled to share this pleasure with anyone who might be contemplating a walk in our beautiful bush capital. Here goes my first book review…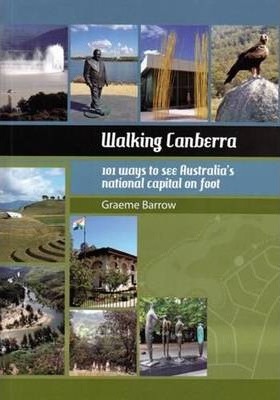 Waiting to be served at my local newsagent, my eyes fell on this little book propped up among the sweets at the counter. The full title held my attention: Walking Canberra: 101 ways to see Australia's national capital on foot. I'd long been considering how to get some exercise and at the same time discover some of the unknown treasures and pleasures in our world, and this title promised to deliver exactly that.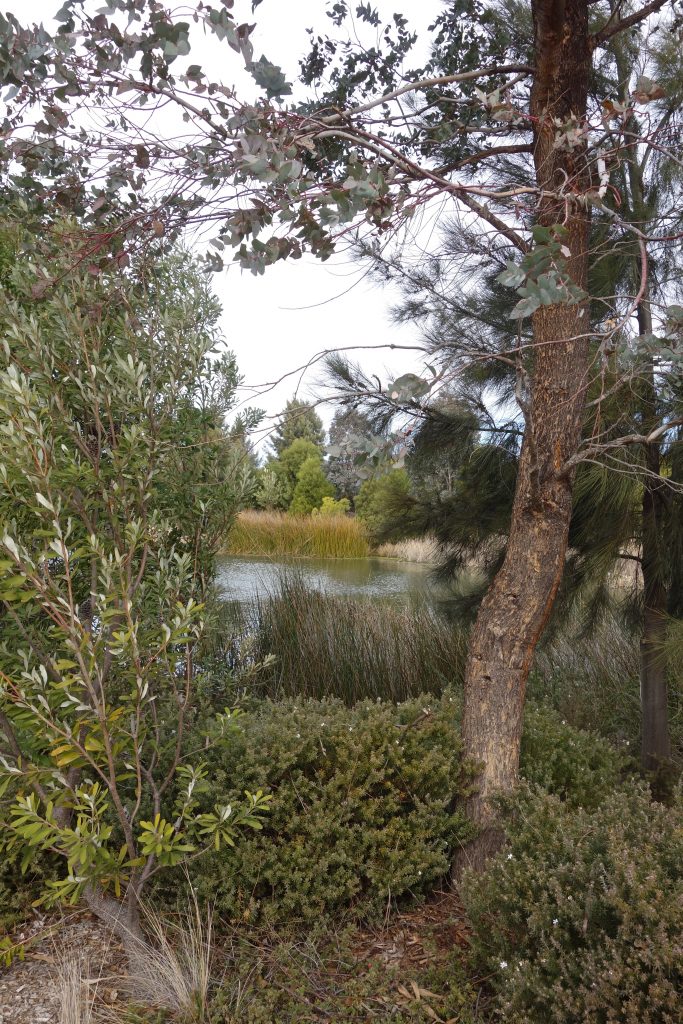 Walking Canberra is nothing like the stuff I work on as a translator, it's neither a fairy tale nor a New Caledonian drama, yet it's currently a favourite book that I've been referring to for the past four weeks. I've heard there aren't many copies left because it's going out of print. Graeme Barrow self-published his books through his own business, Dagraja Press. He was a Canberra journalist who wrote books on bushwalking in this region, as well as a few local histories. He died in May last year, so here's hoping that someone else will take on the project of updating his advice on walking in Canberra's parks and bushland as the city changes and grows and old paths and landmarks are moved or removed.
Barrow wrote like a friend to friends. The information and instructions are clear as a bell, and though he published it in 2014, I've found that the details (in the walks I've taken so far) are still correct. There are small maps on each page, and a description of what to see along the way, an outline of where to turn, where to linger and what to avoid.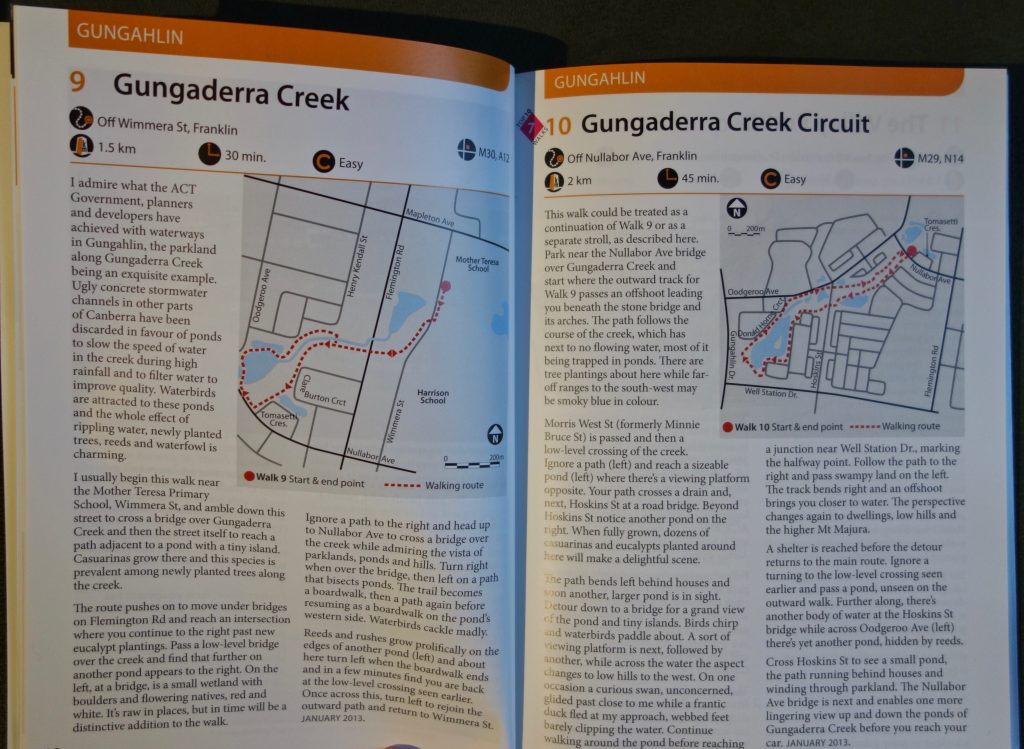 Last weekend and this, my husband and I walked the Gungaderra Creek Circuit, chosen by me because of its level of difficulty: "Easy". The local government has created a series of ponds instead of the usual concrete stormwater drains, and these ponds attract water birds and frogs frogs frogs which are invisible among the reeds but loud! There are no frogs in my suburb so this sound was a surprise.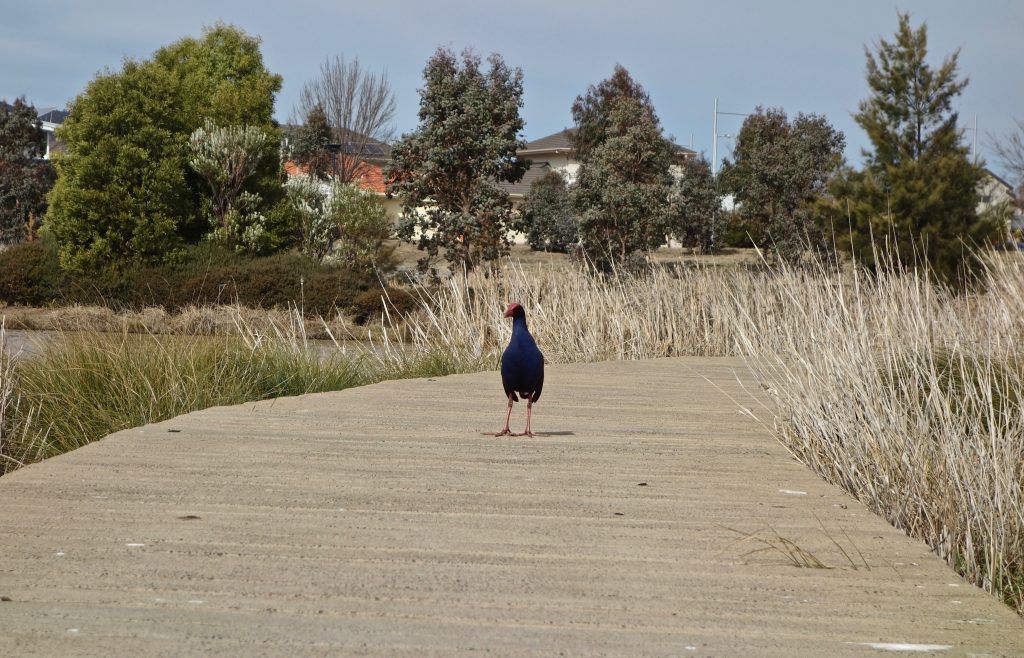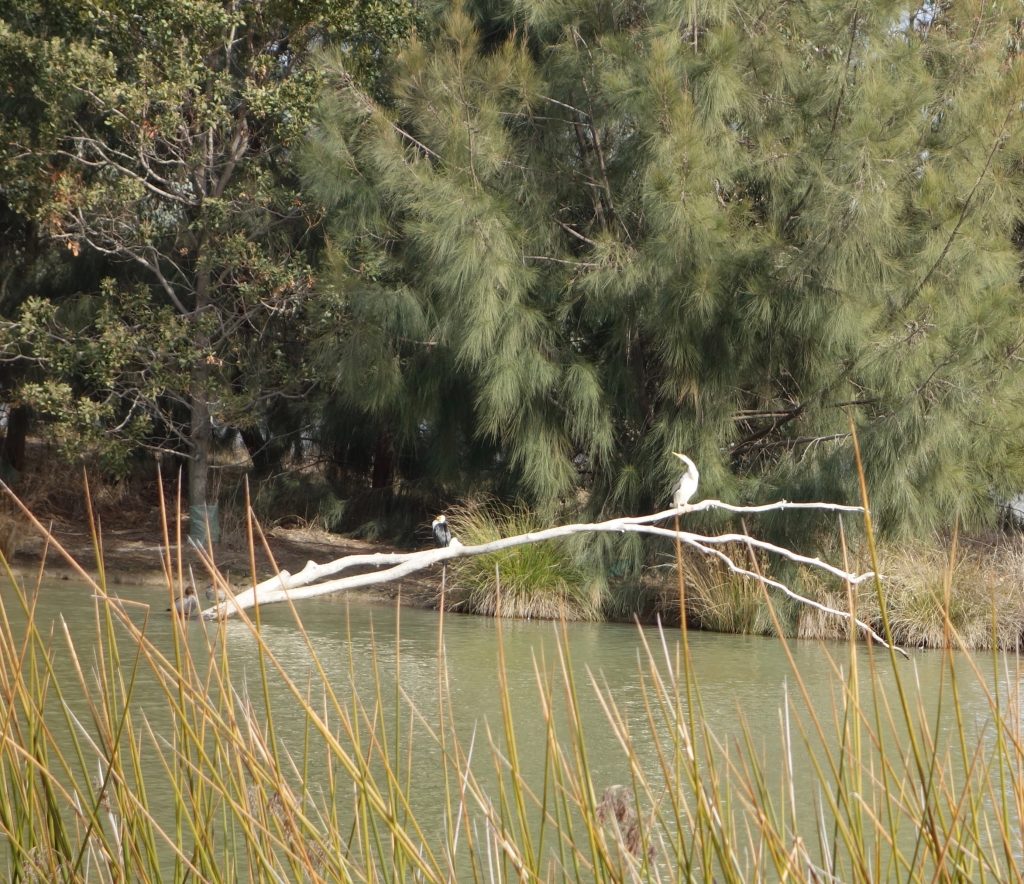 While walking in what is essentially still suburbia, there are reminders here and there of human slips in the design: a thorny rosebush growing as though grafted onto a young eucalypt, a pink soccer ball fallen into the dense reed bed…
… and there's the street beside Gungaderra Creek that was named and renamed after two Australian authors…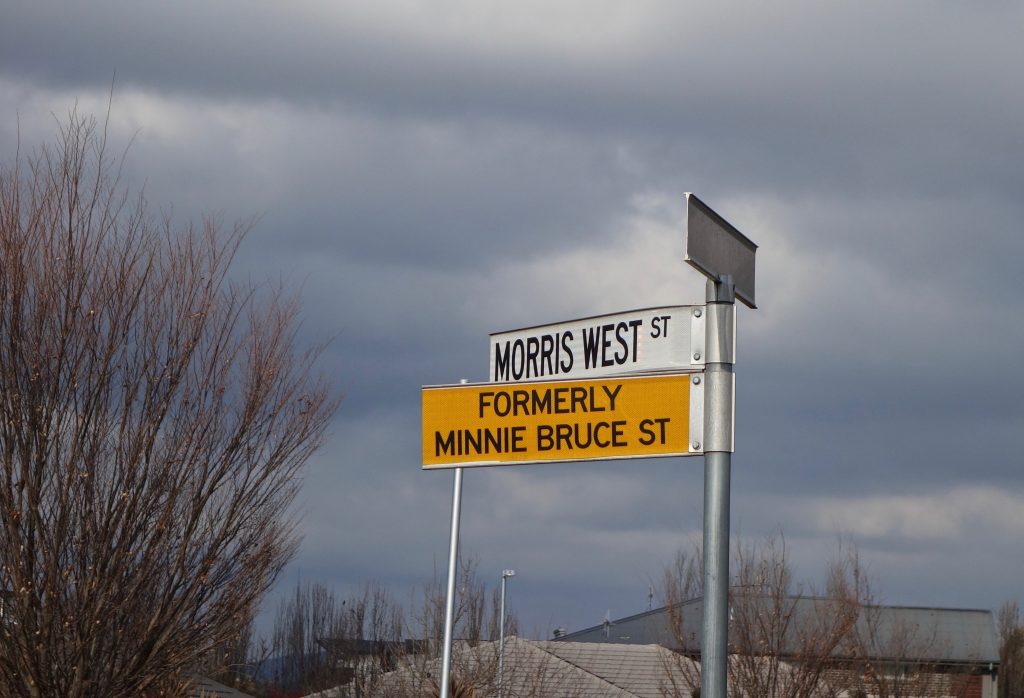 Minnie Bruce was the author Mary Grant Bruce, famous for her Billabong series, who was granted a street name in a suburb (Franklin) where Australian authors were the theme. Ten years ago her family asked for the name to be revoked since her mother was known as Minnie, and Mary was known as Mary (despite being named Minnie at birth). So, Morris West, another Australian author, was given the street. West was famous for many novels but particularly his first, The Devil's Advocate, which has been reprinted more times than any other modern Australian novel. Now there's a claim to fame that deserves its own street!
Out of the 101 ways to see Australia's national capital on foot I've already done about 47 by dint of having lived here for 21 years. I'm thrilled to have found this special book that gives me ideas for filling my free days for the next 21 years.
*