This month we went to the southern highlands of New South Wales, stopping at Bowral and Sutton Forest. It's a region of retirees and tourists and businesses that accommodate one or the other.  (I'm neither; I was visiting an aunty, who is retired.)  Historically, Bowral was a rural retreat for the well-heeled of Sydney who built a number of manor houses on large estates, many of them now accommodation for expensive weekends away.  These days there are also a large number of homes owned by ex-Sydney residents who've worked hard all their lives and can afford a comfortable retirement in this cool, green, historical region.  Bowral is also famous for its association with cricketer Sir Donald Bradman, which is interesting if you like cricket.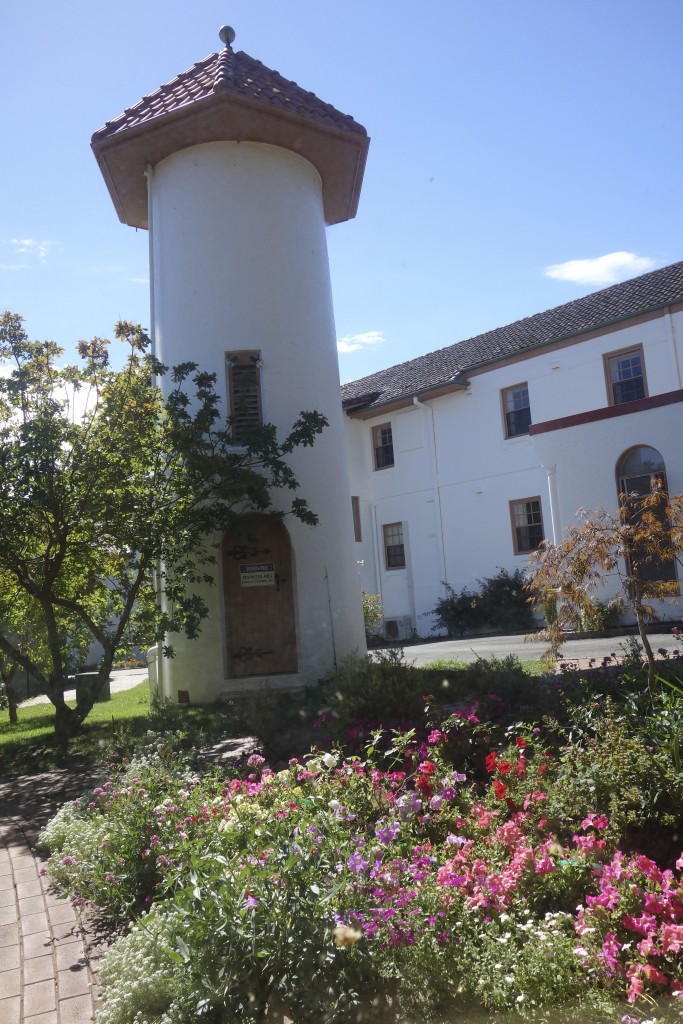 In Bowral there are big big houses where the rich have indulged their whims.  Let's say you made your money sailing the seas.  Then you could build a lighthouse-type structure in your garden and pretend you're still out there on the ocean watching for land.  But not everyone in Bowral's history has had buckets of money.
There are still a few poor cottages scattered surprisingly here and there.
It's a place where nature has been tamed to suit the formal tastes of European settlers, with pines in lines and hedges with edges.  The garden seat in my header, off to the side under shady trees, was much more inviting than these stiff square plantings.  Not to worry, untamed Australian bush is never far away – once you're out of town and back on the highway, this is all you see either side of the road.
The southern highlands attracts people with money and where there's money there's shops, particularly shops that sell non-essentials:  craft shops, antique shops, home decorating shops, country clothing shops and book shops (actually, book shops are essential).  In Sutton Forest there's even a shop for everything, called The Everything Store, with an American flag flying beside two Australian flags.  There are markets selling fruit and vegies and cakes and nuts.  This one had all sorts of things hanging from the ceiling, even a colourful umbrella sheltering garlic bulbs.  I was amused by the nut warning, which we find on everything now, even on nuts!
On the way back we passed Lake George which is presently empty and used by farmers to graze sheep and cattle.  It's an endorheic lake, meaning it doesn't flow into rivers or the sea, and fills and dries out for short or long periods.  I've lived in this region for 17 years and rarely seen it full or even half full.  It all seems very mysterious, and urban myth makers make the most of the disappearance of the water and its destinations.  In the past decade the ridge on the lake's south-eastern side has been embellished with 67 wind turbines, making the Capital Wind Farm the largest in New South Wales.  Here's a photo I took as we drove past:  lots of clouds, ridges, wind turbines and sheep.  Zoom in to see.
You know you're close to Canberra when you see Black Mountain Tower come into view.  It's a comforting sight, knowing the long trip is nearly at an end.  The layers of ridges of the Brindabella Ranges are so beautiful from this point on the road that it's like driving into a landscape painting.
Thanks for reading about our trip to the southern highlands.  And thanks to Marianne for her challenge to take one trip EVERY month.