Black are the brooding clouds and troubled the deep waters, when the Sea of Thought, first heaving from a calm, gives up its Dead.
From The Chimes, a Goblin Story of Some Bells that Rang an Old Year Out and a New Year In, Charles Dickens, 1845
Sometimes it's not the first chapter that has a memorable opening line. It could be a later chapter like this one that comes from the Third Quarter of a short novella in Dickens' Christmas collection. Rather than four chapters, it has four quarters, like the quarters of an hour at which church bells chime. The tale is set on New Year's Eve. And since, today, it is indeed New Year's Eve, I've chosen it to end my year.
Here is the story's true opening line, for your comparison:
There are not many people — and as it is desirable that a story-teller and a story-reader should establish a mutual understanding as soon as possible, I beg it to be noticed that I confine this observation neither to young people nor to little people, but extend it to all conditions of people: little and big, young and old: yet growing up, or already growing down again — there are not, I say, many people who would care to sleep in a church.
While I agree with Dickens that not many people would care to sleep in a church, particularly a church whose bells mark every quarter hour, I was especially struck by the Sea of Thought giving up its Dead.
At this point in the tale, a poor and aging messenger nicknamed Trotty Veck (for he trots) believed that chiming bells were speaking to him as he sat on the church porch waiting for messenger jobs. He was a pessimist, he could see no way up and out of a pauper's life; he believed that poor people are naturally bad. Now he climbs the stairs of the belfry to see these bells that speak to him. But the bells have spirits in the form of goblins who reprimand him for his lack of faith in a poor man's ability to improve. They want to teach him a lesson: if the poor are not oppressed, they can strive for better things, and, like time, they must advance.
The goblins are excellently illustrated on the opening pages of the novella.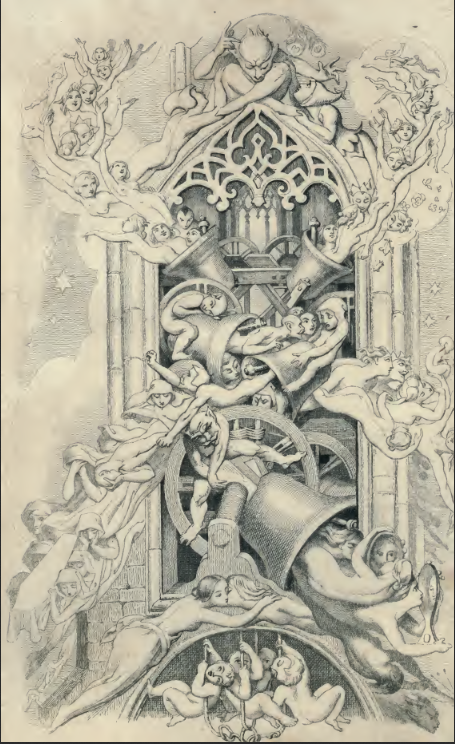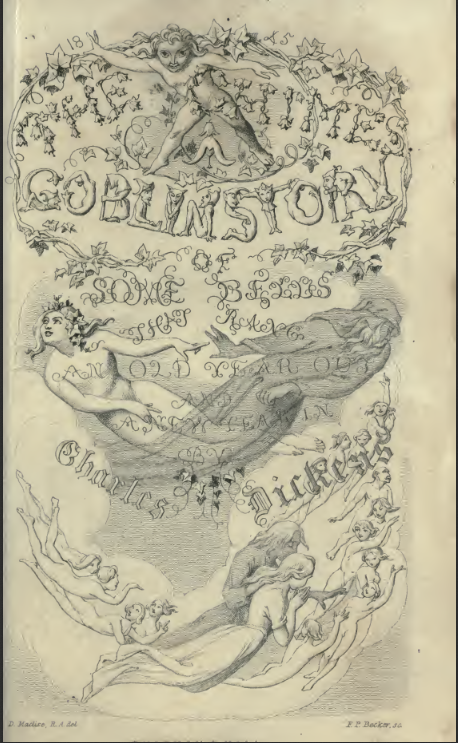 The Chimes is another of Dickens' tales about injustice and the impoverished of Victorian England. Grim as it is throughout, the story has a happy ending. The goblins may or may not have been real, but Trotty Veck learned his lesson:
"I know there is a Sea of Time to rise one day, before which all who wrong us or oppress us will be swept away like leaves."
A Sea of Thought. A Sea of Time.
And now to conclude 2017, some lines from The Chimes describing the past and future of any year:
"The New Year! The New Year! Everywhere the New Year! The Old Year was already looked upon as dead; and its effects were selling cheap like some drowned mariner's aboardship. Its patterns were Last Year's and going at a sacrifice, before its breath was gone. Its treasures were mere dirt, beside the riches of its unborn successor!"
Happy New Year to all!
*