In his thirty-fifth year, the dwarf of the Barnaboum Circus started to grow.
Opening line, 'The Dwarf', Marcel Aymé 1934 (my translation)
Sometimes an opening line of a story or book can distract a reader from everything else in that moment. He reads on, regardless of the noisy world around him. Nothing matters but the next line and the next.
A shrewd author can arouse this desire in the holder of his book. He can capture our attention by stating an impossibility as truth, and leave us begging to know the consequence. Marcel Aymé is not only a master of beginnings, but his first lines deliver what they promise: intriguing stories that answer a "what if…" question. So, what if a man who'd always been short suddenly grew to normal height?  He might, like Valentin in "The Dwarf", discover the delights of seeing his favourite woman, a circus bareback rider, face to face.
Sixty years after it was first published, this was one of five Aymé stories selected for an art book produced by Bird & Bull Press, printed by letterpress from metal type, on mouldmade paper, without any digital aid, and illustrated with wood engravings by Gaylord Schanilec. I'm fortunate to live close to the National Library which holds one of 150 copies, and this week I spent an hour totally distracted from the holiday season by the tactile and visual pleasure of this special book. Here's a taste of the illustrations: the dwarf is depicted at the circus, before he began to grow: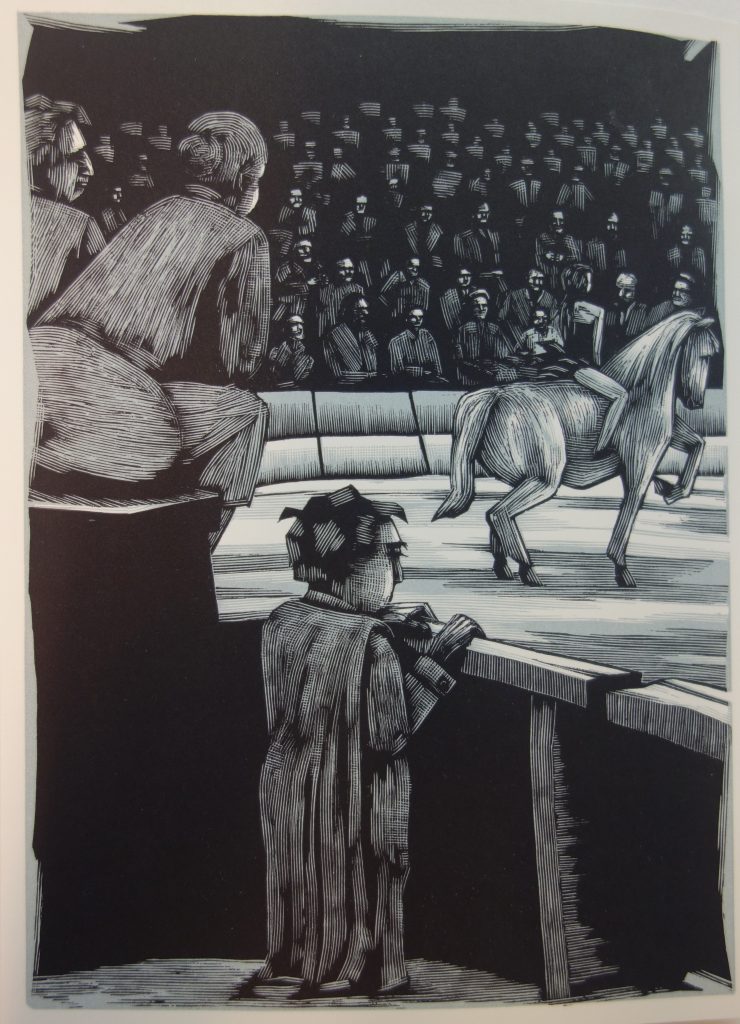 *