A prompt from booksaremyfavouriteandbest – starting with A Christmas Carol I'll recall six books I've read, triggered by the memory of Dickens' wonderful never-fading tale.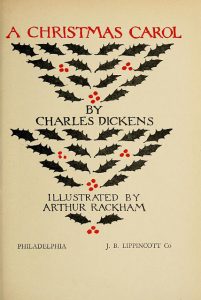 1. Straightaway I think of another Christmas story by Dickens: The Chimes, a Goblin Story of Some Bells that Rang an Old Year Out and a New Year In. It comes with magical illustrations. I wrote a post about it because of the opening line of one of its chapters. Exquisite.
2. Goblins remind me of Christina Rossetti's Goblin Market illustrated by Arthur Rackham. It's been said that Goblin Market has sexual references between its lines and was therefore intended for adults. But Christina Rossetti said it was for children, to show the importance of sisterly love.
3. On the other hand, the old fairy tale writers produced stuff intended for adults but it was read to children and that now scares some modern parents, apparently. Here Comes a Chopper to Chop Off Your Head by Liz Evers is an excellent read that reveals the dark side of some children's stories.
4. A collection of stories from the French Decadent era, also mostly unsuitable for children, is Fairy Tales for the Disillusioned edited by Gretchen Schultz and Lewis Seifert.
5. Both books 3 and 4 have cool illustrations including images by Arthur Rackham who also illustrated Irish Fairy Tales by James Stephens which I recently read some of. 'Becfola' is my favourite and is accompanied by a picture of her up a tree shrinking away from hungry wolves.
6. Of course thoughts of a hungry wolf take me to Little Red Riding Hood, but then to The Little Red Writing Book by Mark Tredinnick. An excellent play on words. And an excellent writing guide by an Australian writer. I've read it again and again.
By coincidence I've selected book covers in Christmas colours!
*