In Laurence Binyon's poem 'For the Fallen', which adorns numerous war memorials around Australia, there is a verse that every Australian knows:

They shall grow not old, as we that are left grow old…
Opening line of the Author's Note, Desert Boys, Peter Rees, 2012
*
I've heard the line 'They shall grow not old…' every year of my life, yet it still catches me out. Wars need poets.
When I look at the photo above from my father's World War Two album, taken during his time in North Africa in 1941/42, I wonder whether these soldiers fell or grew old. Unfortunately the photo is uncaptioned and I have no names for them. They seem to be posing, demonstrating a lesson in warfare.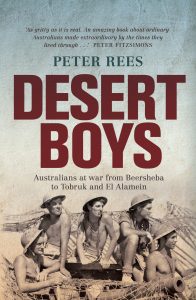 I'm struck by its similarity to the image on the cover of Desert Boys by Peter Rees, a book about Australian soldiers who fought in the desert in both world wars. In each photo there are five young Australian men in helmets, focusing on something to their left. Perhaps these cover men are also posing. In any case, their photos remind us that they went to the desert to fight, and may not have returned to grow old.
*