June in Munich. It's hot, surprisingly hot. Two months ago it was still cold and even snowing a bit. Now, after the long winter, the population of Munich has come outside. Large numbers of people are running and cycling in the streets and exercising in the parks. In the Englischer Garten they even surf!
A small man-made river, the Eisbach, flows through the Garden with a current so forceful that the ducks don't need to paddle. In one section near a bridge, a standing wave has been created, and though swimming in the river is not allowed, the rule is bent for surfers (München rules generally seem made to be broken), with the exception, noted on a sign, that the wave is only for experienced and skilled surfers.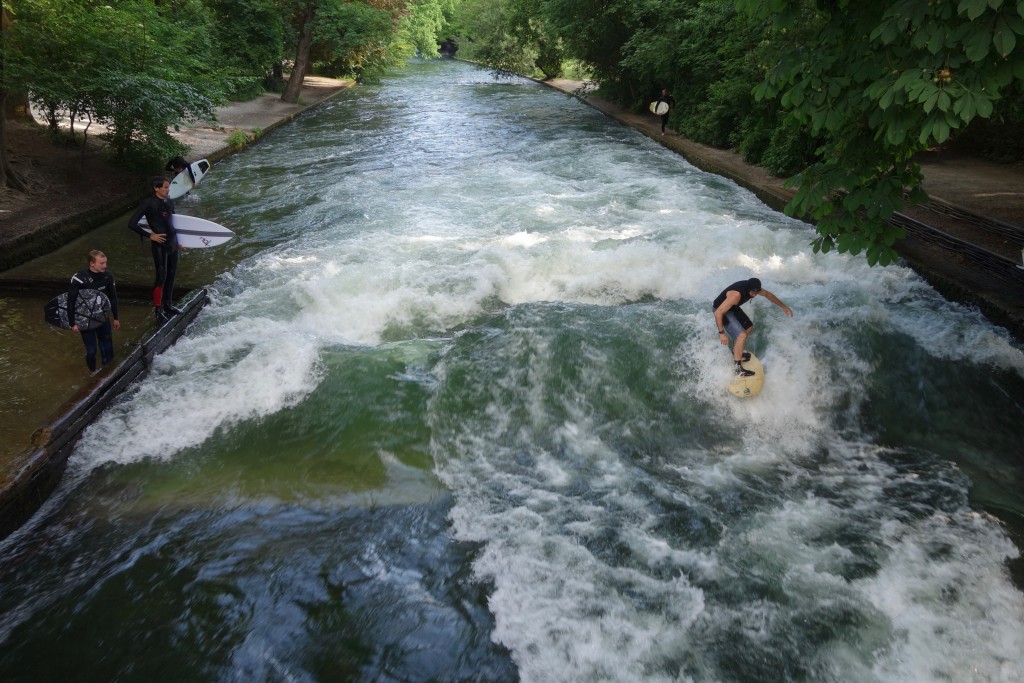 The surfers are out every morning, but on Sunday morning in the Englischer Garten there were people not just surfing, or strolling like me; others were boxing, studying, cuddling, meditating, photographing, dog-walking, or doing a little yoga:
Nearby, at the end of Prinzregentenstrasse where I went to gaze on a golden angel, the Friedensengel, I found a photographer with models, exercising of course. The stone angel babies almost seem to be joining in the whole Munich exercise trend.
I've seen the seasons change in a few cities this month, starting with Canberra, then Singapore, and now Munich. Cardinal Guzman likes to see seasons change and prompted me to do the same.
*****