At dawn in an outlying district of Warsaw, sunlight swarmed around the trunks of blooming linden trees and crept up the white walls of a 1930s stucco and glass villa where the zoo director and his wife slept in a bed crafted from white birch, a pale wood used in canoes, tongue depressors, and Windsor chairs.
Opening line, The Zookeeper's Wife, Diane Ackerman, 2007
On a long-haul flight back to Australia, I watched the movie of The Zookeeper's Wife twice. The first time I could barely hear the sound, the earphones were poor quality, so I took a second bite at it, imagining the storyline by the visuals. In the stopover airport I spotted the novel of the same name at the newsagent. On the opening page I read the line you've just read above, and was hooked by the setting described in that long sentence, being able to match it to my memory of film images. I got hold of the book once I was back home. It was unputdownable.
It's a true story about a Polish zookeeper, but particularly about his wife, Antonina Zabinski, who hid about 300 Jews and resistance fighters from the Gestapo. The zoo's animals had all been let loose or killed in the 1939 bombing of Warsaw, so she and her husband, Jan, allowed people to hide in animal cages, shelters and underground tunnels on their way to longer-term hiding places. Antonina and Jan and many of their illegal guests survived the war.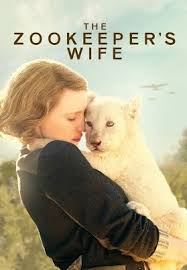 I recommend the film as well. The actress, Jessica Chastain, like the woman she plays, has an awesome affinity with animals that's delightful to watch.
*