This is an account of connections observed when a translator, or any writer, is absorbed in a story.
This morning as I searched through a Wikipedia entry about One Thousand and One Nights for the use of a particular phrase, I came across the sub-heading 'Foreshadowing', which, I learned, is a literary device used by an author to hint at certain plot developments such as a disastrous end for the hero.  Ah, what a coincidence, I thought, having just posted a blog entry in response to the WordPress weekly photo challenge for which the prompt was foreshadow.  Clicking on the highlighted term 'foreshadowing' on the Wikipedia page took me to another page where I saw an illustration by Arthur Rackham of the Rhine maidens warning Siegfried of a curse and looming disaster.
Ah, I thought again, what a coincidence!  Just a few days ago, reading up on the Symbolism of artists and writers of the 1890s, all the better to understand the story I was translating that day, I came across a painting in a large book about nineteenth-century art, a work by Albert Pinkham Ryder called Siegfried and the Rhine Maidens.  It surprised me at the time because it virtually depicts a particular detail in the story I was working on, Useless Virtue (L'Inutile Vertu) by Jean Lorrain (1895).  Yet another coincidence.  Here's the painting from Wikimedia Commons: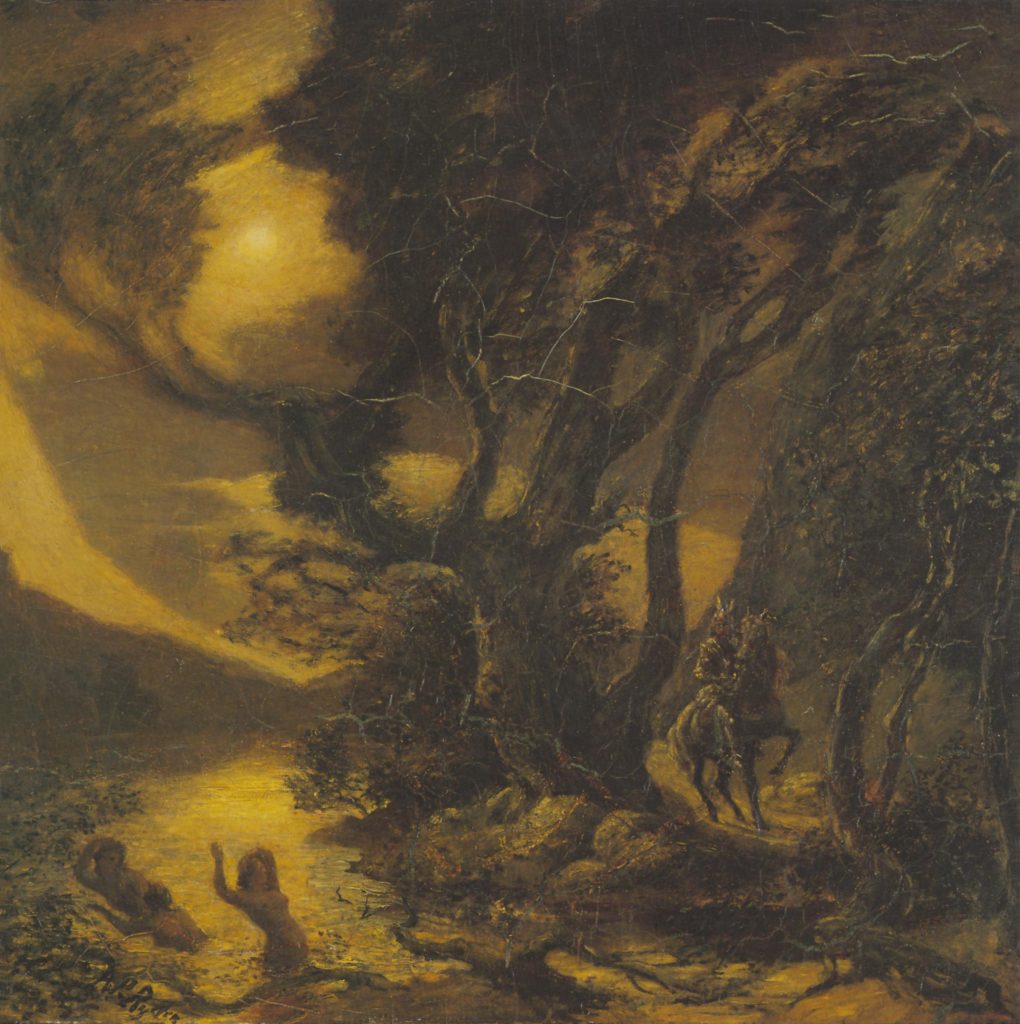 The scene with Siegfried and the maidens comes from Wagner's opera, Götterdämmerung (Twilight of the Gods), which inspired many painters and writers of the 1890s who produced stories and paintings that transport the reader or viewer, as Wagner did, to a mystical land where symbols foreshadow an unhappy destiny for the hero.  There is often a sunless sky or a glowing moon, a mythical natural landscape of forests, mists, bodies of water, and nymphs – often in groups – who seductively invite the hero to join them.
In a few paragraphs from Useless Virtue, Jean Lorrain could have been writing about Wagner's Rhine maidens.  The hero, Bertram, even wears a winged helmet like Siegfried in the paintings above.  The story is a gloomy one and quite different from Götterdämmerung, but there's a moral at the end:  there is punishment for a man who avoids temptation all his life!  I enjoyed translating the vivid imagery, partly because this week I've stumbled across these few connections to the story.  Vive la coïncidence!