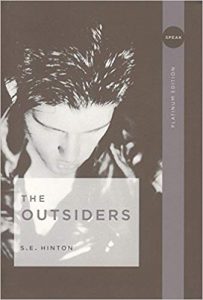 For the challenge by Booksaremyfavouriteandbest to find six degrees of separation between books, this month's starting point is The Outsiders by S.E. Hinton.
1. At first I thought it was The Outsider (singular), one of the English titles given  to Albert Camus' L'Étranger. But reading the author's name made me look again. I noticed the plural in Hinton's title and recalled my sons reading this book at high school and then reading it myself. However, I had immediately thought of Camus' book and its opening line, 'Aujourd'hui maman est morte', much discussed by translators. In Stuart Gilbert's translation, The Outsider,  it becomes 'Mother died today'.
2. This led me to think of another opening line disputed and revised by translators, the first line of Swann's Way by Marcel Proust, translated by C. K. Scott Moncrieff: 'For a long time I used to go to bed early.' So many ways to say this.
3. And the first line of Anna Karenina by Tolstoy, translated by Constance Garnett: 'Happy families are all alike; every unhappy family is unhappy in its own way.'
4. And from there my mind went to Tolstoy's War and Peace, currently showing as a TV serial. I have the book, a gift from my daughter-in-law who works in a bookshop, but I haven't tackled it.
5. However, I have decided to tackle another hefty Russian novel, Dostoevsky's Crime and Punishment, only because I found a pocket-size edition in a 2nd-hand shop.
6. I took a break from Crime and Punishment after a few chapters and picked up a shorter novel, Sweet Water – Stolen Land by Philip McLaren. What surprised me after reading a description of a gruesome murder in Dostoevsky's novel was to read a number of such scenes in McLaren's.
Of these six books I've read three wholly and three in part, but enough to remember them.
*