Once, I read two sentences that had a silent "Oh wow" effect on me; they were by Turgenev, in his story "The Tryst". I had never read Turgenev, but now I wanted to know him better. I met Turgenev through Rebecca McClanahan in her very useful book, Word Painting. She quoted from "The Tryst" to illustrate description-by-negation, or rather she quoted from Isabel F. Hapgood's translation of Turgenev's story, without crediting Hapgood. But she should have, for without the translation she would not have known about Turgenev's skilful repetition in "It was not … not … not", describing the sound of rustling leaves. Ivan Turgenev's sketches of provincial Russian life are stories I've read and read again in English. Not only are they compelling vignettes of a country I've never been to, but his descriptions of closely observed Russian hunters and other forest frequenters hold my attention from beginning to end.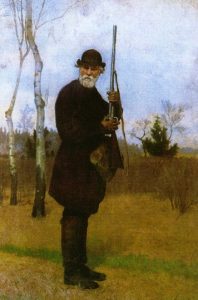 Wondering whether the beauty lay in the translator's words or the author's, I went searching for other translations of the same passage. Here are four versions of Turgenev's description, followed by the translator's name:
The leaves faintly rustled over my head; from the sound of them alone one could tell what time of year it was. It was not the gay laughing tremor of the spring, nor the subdued whispering, the prolonged gossip of the summer, nor the chill and timid faltering of late autumn, but a scarcely audible, drowsy chatter. (Constance Garnett, 1897)

The leaves were rustling in a barely audible manner overhead; from their sound alone one could tell what season of the year it was. It was not the cheerful, laughing rustle of spring-time, not the soft whispering, not the long conversation of summer, not the cold and timid stammering of late autumn, but a barely audible, dreamy chatter. (Isabel F. Hapgood, 1903)

The leaves scarcely rustled above my head; by their very noise one could know what time of year it was. It was not the happy, laughing tremolo of spring, not the soft murmuration and long-winded talkativeness of summer, not the shy and chill babblings of late autumn, but a hardly audible, dreamy chattering. (Richard Freeborn, 1967)

The leaves were whispering faintly over my head: you could have told the time of year from their whisper alone. It was not the gay, laughing shiver of spring, nor the soft murmur, the long discourse of summer, nor the cold, frightened rustling of late autumn, but a scarcely perceptible, drowsy converse. (Charles and Natasha Hepburn, 1992)
Which is the best?
Garnett: Her choice of 'not … nor … nor' is as good as Hapgood's 'not … not … not'. Each word in the two sentences is individual, and most consist of one or two syllables.
Hapgood:  While it's the translation chosen by Rebecca McClanahan to illustrate the suspense in 'not … not … not', it would be better if Hapgood hadn't used 'barely audible' in two consecutive sentences. And 'rustling' and 'rustle'.
Freeborn: Yes, he uses 'not … not … not', but there are too many words of three or four syllables, like 'long-winded talkativeness'. But then 'The leaves scarcely rustled' is more concise than Hapgood's 'The leaves were rustling in a barely audible manner'.
The Hepburns: They repeat 'whispering' and 'whisper' in the first sentence, and later in the same sentence their choice of 'you' is less literary, less poetic, than 'one' which keeps the reader at a distance. Also, 'could have told the time' at the beginning of this clause had me thinking of hours; I had to read it again.
So, for this little exercise, Constance Garnett is the better translator, and the one I admire. Or is it Turgenev I admire? Since I can't read Russian, I'll never really know. What I do know is that comparisons of translations often send me back to Constance Garnett.
*****
P.S. I'm writing this in autumn, but not in Russia. There are no shy and chill babblings nor is there a cold, frightened rustling. It's a stunningly beautiful day here in Canberra where the only rustling is from the currawong, shifting branches as he eats my figs!