The men of the twenty-ninth century live in a perpetual fairyland, though they do not seem to realise it.

Opening line, In the Twenty-Ninth Century, by Michel and Jules Verne, 1889, translated by I.O. Evans, 1965

The full title of this short story which is mostly the work of Jules Verne's son, Michel, is In the Twenty-Ninth Century. The day of an American journalist in the year 2889. The story was originally written in English by an uncredited translator working with Michel Verne, and was later improved by Jules and published in French. (Michel's English was too poor to write a publishable story.) It appeared in a New York periodical, The Forum, in 1889, a thousand years before the events depicted.

I had an 'Ah!' moment when I recently read the story in a Jules Verne collection. Near the end, a scientist tries to hibernate for 100 years, for pure love of science, by exposing himself to a cold of 172 deg Centigrade and then being shut up in a tomb. On the appointed day for his resurrection, the coffin is opened and the body is still mummified. Nothing brings it back to life. It's concluded that the method 'still needs to be perfected'.
But I had already suspected that Verne had written something about the dead returning to life because of this postcard I bought at his house (now a Jules Verne museum) in Amiens earlier this year, which was definitely more interesting than any tomb. As you see, he's bursting up out of his grave, alive again, though only in a sculpture that was added two years after his death in 1905.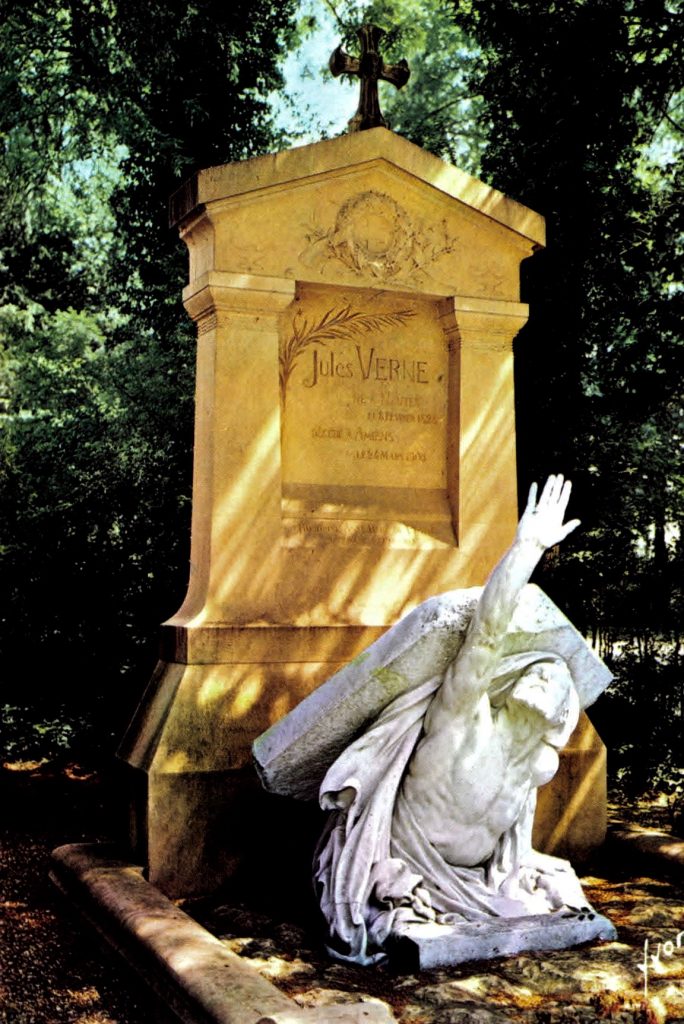 An amusing foresight in the story is the phonotelephotic apparatus used by the characters Francis and Edith Bennett, who like to have lunch while in two separate places, talking to each other on the screen while eating. A video phone, we might call it. It's a part of the fairyland mentioned in the opening line, but it's also a good prediction on the part of Jules' son Michel.
And it's elements like these in old science fiction that make the stories fun to read, picking out what has actually come to pass and what is yet to be 'perfected'.
*