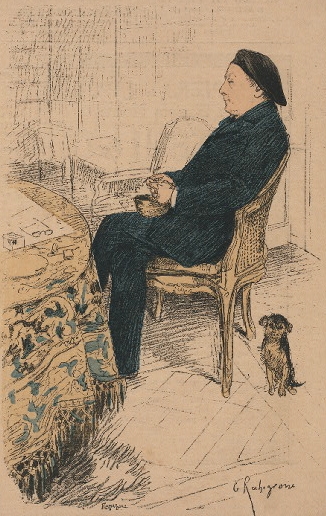 Théodore de Banville. Prolific poet and writer, frequenter of the most anti-conformist Parisian circles. Proponent of 'art for art's sake':
« Il n'y a de vraiment beau que ce qui ne peut servir à rien, tout ce qui est utile est laid. »
[There is nothing truly beautiful except that which serves no purpose; everything useful is ugly.]
Banville was an enemy of realism and had nothing good to say about technology that produced smoke or steam. He was among a number of writers who scorned the introduction of electric lighting and mechanised production in factories, as well as the fad for stock markets and wealth-making. He believed that humans are better when they surround themselves with beautiful antiques and ancient masterpieces of art and literature than when they pursue capitalist, bourgeois progress.
Parisian by choice, not birth – he loved the city of Paris and said it is filled with the smiles of fairies – Banville came originally from the French region of Auvergne, further south. While still young he went to Paris and published his first volume of verse, Les Cariatides, at the age of 19. His best work was Odes Funambulesques (Tightrope Walking Odes, or, in Banville's own words (translated), odes composed with the care, rigour and comic element of tightrope walking). By the age of 30 he was producing poetry, tales and reviews to the great praise of other men of letters, among them Victor Hugo. In his later life Banville wrote mostly colourful and comical prose about the elegant, artificial, unreal Parisian world.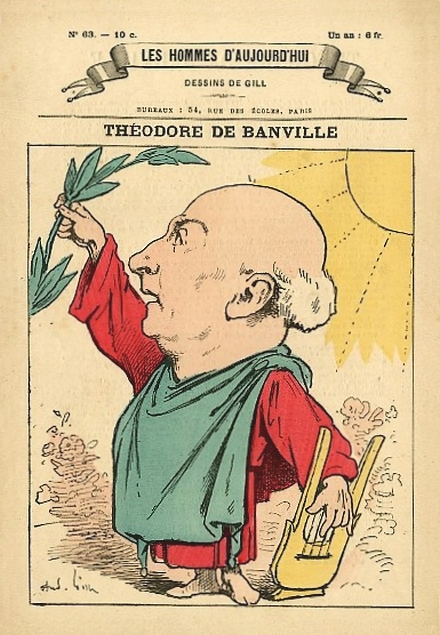 More importantly for me and my search for fantastical French short stories, Banville was one of a few late 19th-century French writers to bring the genre of the fairy tale back into fashion. Very little of his prose has been translated into English, but I've got the ball rolling with my translation, "The Lydian".
Scottish writer, Andrew Lang, translated some of Banville's poetry at the end of the century, and later wrote about it:
Poetry so fresh seems to make us aware of some want which we had hardly recognised, but now are sensible of, at the moment we find it satisfied.
My own feelings, precisely. When I first read Banville's tales of Parisian life in Contes féeriques, I was blown away by the observations he made about his fellow city dwellers and their hastiness, their jealousies, their yearning to electrify and mechanise and modernise life and their tendency to curl the lip at old simple pleasures like candlelight and artisans' workshops.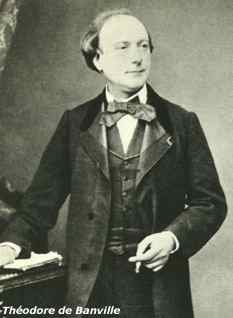 Banville married Marie-Élisabeth Rochegrosse when she was 47 and he was 53, and he adopted her son Georges Rochegrosse who was inspired by his stepfather the poet, and became famous himself as an artist.
Two sculptures of Théodore de Banville ensure he will not be forgotten. One is a bust in the Jardin du Luxembourg in Paris. (I like the lyre resembling a face…)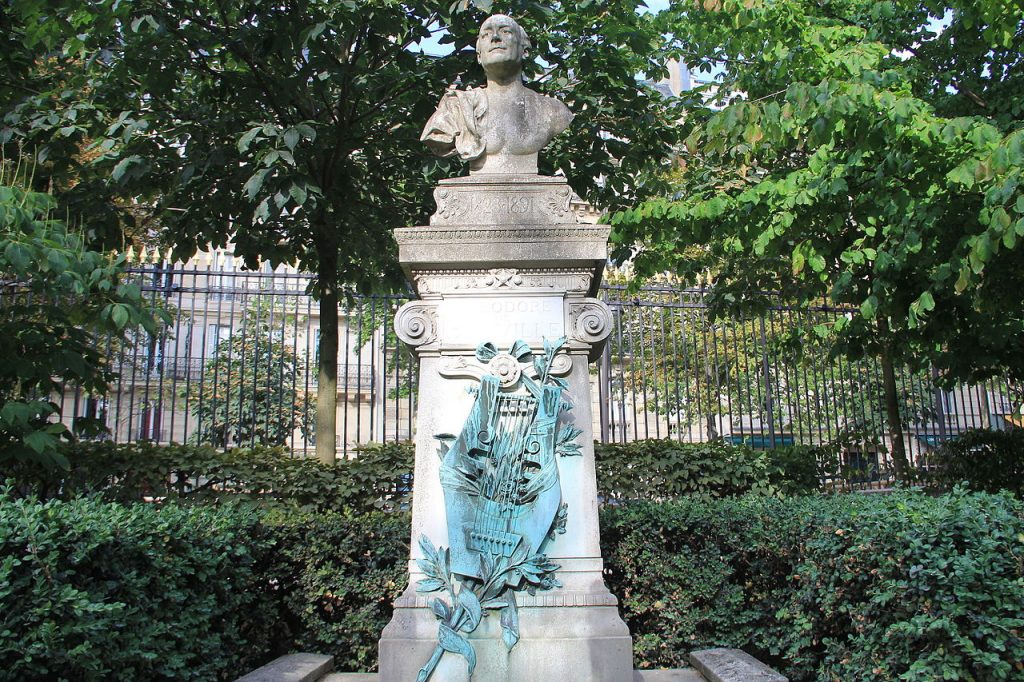 The other, in his birthplace of Moulins, is based on the drawing of Banville by his stepson Georges Rochegrosse (top of this page). Note the dog, Zinzolin, in the drawing and in the sculpture… In March 1944 this statue mysteriously disappeared from the park. The occupying Germans had stolen it with the intention of melting it down for weaponry, but fortunately the war ended before they got around to it. The statue was restored to the park in April 1945.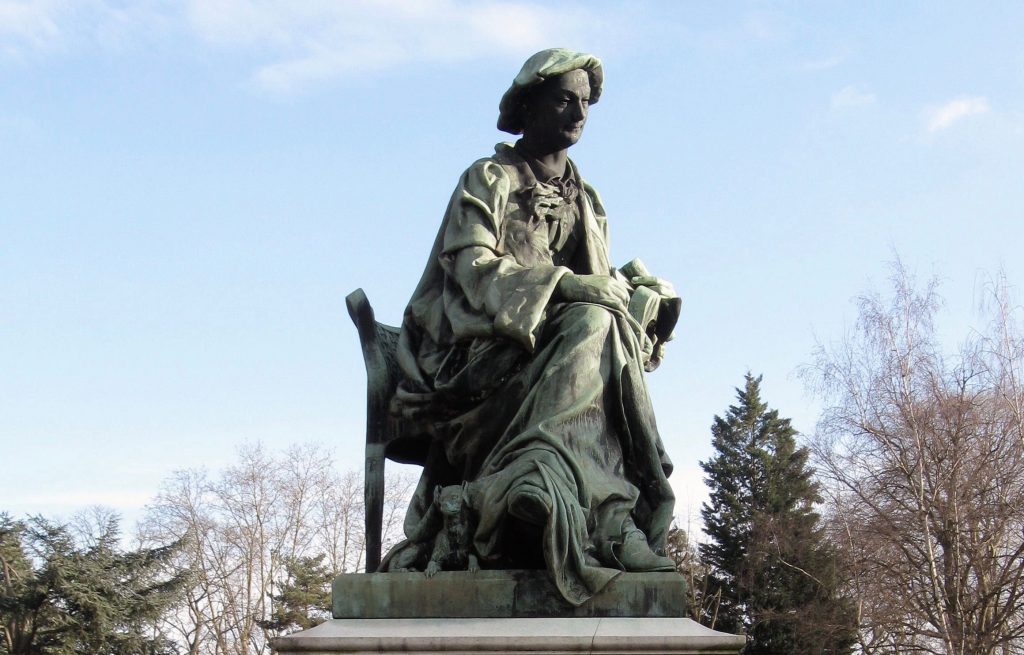 Banville died at 68 in 1891 and is buried in Montparnasse Cemetery in Paris.
*